Pro Tip
Job Calculations Made Easy with the Sakrete App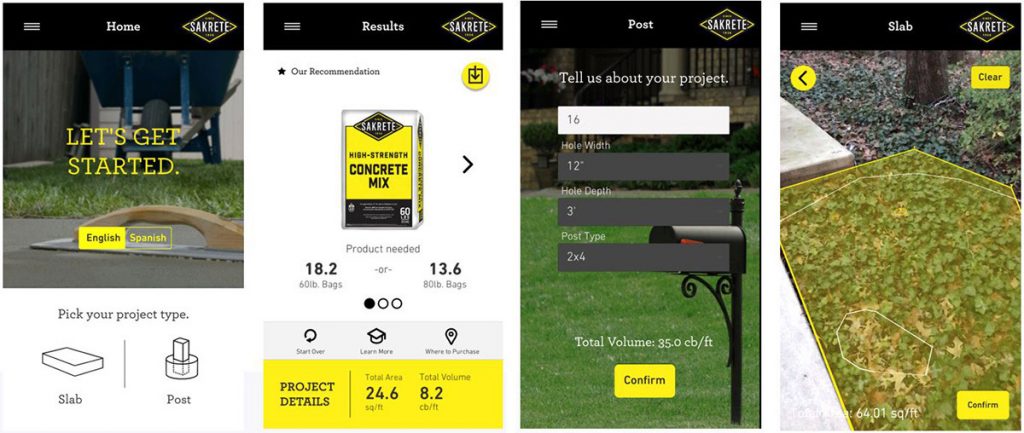 ---
As a professional, you deal with a variety of concrete projects. Very rarely do we find ourselves installing a concrete project that is perfectly square with easy to calculate measurements. If you find yourself spending additional time calculating measurements for irregular spaces or multiple projects on the same job site, it's time to streamline your process.
Less Math, More Speed
The Sakrete App takes concrete calculations to the next level by using augmented-reality spatial computing, which means all you have to do is scan a project site through your smartphone's camera lens. The app does the math for you to calculate how much concrete mix you need.
Say Goodbye to Tricky Calculations
Generally, when beginning a concrete job, you have to run through a number of measurements and calculations to ensure you are buying the right amount of mix and other supplies. If you are working with a project space that's a perfect cube, easy! Just determine the volume in cubic feet; however, we all know that's unlikely. If you are filling a round hole, the calculation is completely different (the formula for the volume of a hole is pi r2 x depth) and not so easy.
As you know, the math doesn't stop there. Once you have confirmed the volume of the area you are aiming to fill, you then calculate the number of concrete bags needed using the yield of your product.
There's nothing wrong with doing some old-fashioned equations, but you shouldn't have to endure this time-consuming task with every project you manage. And now you don't have to.
Do it Right the First Time
With a simple point and shoot, the Sakrete App delivers all of the estimated bagged concrete needs to various projects, including slab and post installation. Once you input the slab volume or post size, number of posts and hole depth, the application recommends the appropriate Sakrete product, quantity and where to buy. The augmented-reality feature helps estimate volume for curves and irregular shapes, taking the guesswork out of buying concrete mix.
See simple step-by-step instructions for the Sakrete App here. Or visit the App Store or Google Play to download it for free.
The Sakrete augmented reality app is completely free and available in English and Spanish. Download the app available for iOS and Android for the following devices: iPhone 6S or newer, iPad Pro (9.7", 10.5", and 12.9"), iPad 2017 or newer and Android devices running Android 7.0. The app also includes a tutorial for users.
Have any questions or feedback about the Sakrete App? Consult our technical team with your comments.